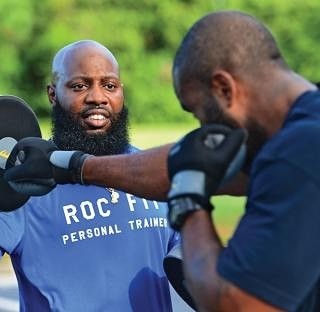 Maynard Taylor – Certified Personal Trainer
Location: Jacksonville, FL
Phone: (904) 554 – 1970
Email: mtaylor@rocfitnesstraining.com
Instagram: @may_da_personaltrainer
Specialty: Weight Training, Strength Training, Sport Performance, Core & Stability Training and Toning.

About me:
I have been involved in weight training for the past 18 years and became a Expert Rating certified personal trainer in 2013. My goal is to help you reach your fitness goals using a variety of methods that include weight training, core and stability training and strength training. I specifically create custom programs based on your fitness goals which will include nutritional tips to maximize your results.

Pricing:
1 Session – $25
2 Sessions – $40
3 Sessions – $45
4 Sessions – $50

* Each session is 1 hour *
* Group sessions are also available *
* Payment must be paid before session via cash or cash app *

Availability:
Monday – Saturday: 730pm – 11pm
Sunday: 12pm – 9pm

Getting Started:
Please print or complete the 3 forms located under the Client Forms section on the homepage.
Set up a consultation to discuss how many sessions and what time you are available.